Creativity notes: People sick of their friends' posturing on Facebook got a special treat earlier this week, courtesy of Mitsubishi and 180 L.A. On Tuesday they debuted a new effort for the 2013 Outlander Sport, the "Unpretentious App," a Facebook tool that trolls your newsfeed for your pals' pompous posts of eating marrow from the bone at a five-star restaurant or sunbathing in the Seychelles, and then obliterates them in a custom online film, with the help of the new Outlander.
180 L.A. copywriter Kevin Steele said that the client was looking for an engagement piece that showed off the 2013 Outlander Sport's redesign. According to Mitsubishi North America's Director of Marketing Francine Harsini, "the Outlander Sport can compete with cars that are priced much higher because of its design integrity and affordable price," so the client sought a "playful campaign that communicates our brand ethos and lets consumers know Mitsubishi stands for the democratization of great design."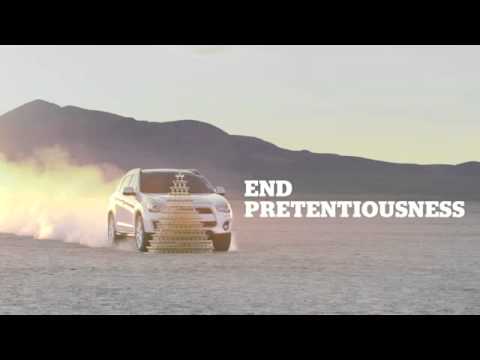 Early on, the 180 team came up with the idea of "Pretentiousnessless," a Frankenstein word they felt embodied Mitsu's mission. The idea of destroying friends' snooty posts was then inspired "by social media," said Mr. Steele. "It seems like every time we open up our news feed, we see an Instagram picture of a latte or someone vacationing in the South of France. We thought it would be hilarious to bring those people a little closer to Earth, and what better way to do that than with a car that is humbling the automotive industry, 2013 Outlander Sport?"

Creating a Facebook campaign wasn't a client prerequisite, but "when you are talking about democratizing something, why not start with Facebook, a platform that everyone seems to be familiar with," he said. The idea might seem a little mean-spirited–the kind that would trigger Facebook's radar and, potentially, get shut down, like past campaigns with an anti-Friend bent. But the agency checked in with Facebook first, who "pointed us to their Privacy Policy and Guidelines as points of adherence," said Steele. "We made sure to adhere to everything we needed to, but at the same time focused on a way to do something clever within their space. We capitalized on an everyday annoyance, and destroyed it with a beautiful car."
The brand's been known to make daring leaps with 180. Earlier this year, it launched Temp Drive, which sent a temp worker to replace three people at their jobs–so they could take time out to test drive a Mitsubishi. Prior to that, they also re-named a whole town to promote their e-vehicles, and built a robot that allowed people to test out a real Outlander from their own computers.
"In being a challenger brand, Mitsubishi needed to make a bold statement," Mr. Steele said of the latest effort. "The clients got on board from the start and we collectively saw this as an opportunity, not a risk."
Weeding Out the Snooty and Snobby
180 partnered with production company Tool of North America for the campaign's film shoot and technology development. Tool director Erich Joiner shot both the campaign spot and the live action footage featured in the app, which shows an Outlander hurtling toward large framed versions of friends' offending posts.
"Once the footage was finished, we built tracking into the frames in order to superimpose user content into them during the interactive experience," explained 180 Senior Interactive Producer Chris Neff. On the technology side, "the hardest thing to figure out was the data scrape used to harness appropriately classified pretentious material," he said. The app basically uses keywords and stats related to friends' Facebook usage. "The keyword data scrape takes the broad search to a very specific place. We utilize words and categories to determine what pretentious content is pulled into the frames within the experience. We also take the actual descriptions and bring them in as dynamic copy. This gives the user context to why the photo has been deemed pretentious."
The agency identified 15 pretentious categories, including Elitist Fashions, Snooty Food, Pompous Cinema and Snobby Lifestyle, as well as nearly 1,000 keywords, such as cinema, postmodern, minimalism, festival, ovation, concerto, opera, sunset and gallery. It also created a "No" list to ensure unpretentious material like "daughter" and "mom," wouldn't be affected.
Turns out the app might be a bit overzealous. For example, when we first tried it, among the first posts demolished included a picture of a friend kissing his newborn baby, and another of an in-law's smiling kids. So it seems the user behavior and words drive the app, not the visuals themselves.
180's Mr. Neff explained, "We stayed away from a visual scraping technology because of theCoke Zero Facial Profiler microsite from a few years back. This site connected to Facebook to find your social media look-a-like–a seemingly harmless thing was quickly shut by Facebook because it technically deployed what was deemed spying on others. We have the technology to do this but we have to be careful whenever visual recognition is concepted." Moreover, "our interpretation of the Facebook Guidelines and Privacy Policy lead us to believe that this was an area that we should still stay away from," he said. "Keyword technology is more widely used and accepted as long as it doesn't break policy."
Ultimately, however, it's a fun idea, and if Facebook loosened its rules and allowed advertisers to scrape visuals as well as this app that had been making the rounds, perhaps version two (if Mitsubishi decides to make one) could be a lot more discerning.