Mashable notes: A Lexus 2013 ES changes colors, turns on its headlights and exposes its interior as throbbing music plays in this highly interactive print ad in the Oct. 15 Sports Illustrated.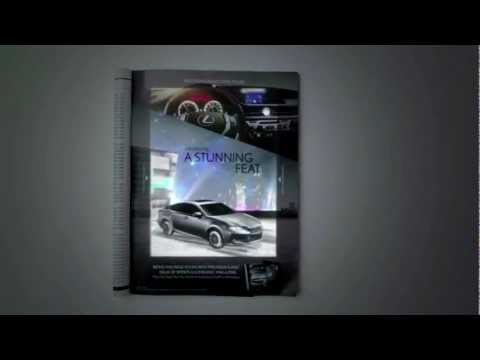 How is this possible, you ask? Well, they sort of cheated. Using a Lexus-created technology called CinePrint, the ad comes to life only when you put an iPad behind the printed page that's displaying the iPad edition of SIor on lexus.com/stunning.
As the release from Lexus notes, most traditionally "interactive" print ads direct users away from the page (think QR codes.) However, "CinePrint Technology flips that on its head, creating a tactile and visceral connection that brings one closer to the printed page with a multi-sensory experience that combines sight, sound, and touch."
Lexus and SI aren't the only ones trying to make the printed page more interactive. This month SI sister publication Entertainment Weekly included a small cellphone inside its Oct. 5 edition to display live tweets the CW, an advertiser.