LuxDaily notes: Targeting affluent holiday gift-buyers, spirits brand Johnnie Walker and Porsche Design Studio are partnering to market a collection of products that includes limited-edition bottles and made-to-order bars for the home.
The new Johnnie Walker Blue Label collection with Porsche Design Studio allows the brand to market in not only the spirits category, but gifts as well. Consumers tend to spend 30 percent more on a gift than they do on a product that they buy for themselves, according to Johnnie Walker, and therefore, this move will likely help the brand gain revenue during the fourth quarter.
"The Johnnie Walker Blue Label Limited Edition Collection design by Porsche Design Studio creates a new gold standard in luxury gifting, helping to drive brand equity and business value by strong association with other luxury groups, allowing us to generate new news behind Johnnie Walker Blue Label, showcasing our expertise in customization for today's luxury consumer and creating exclusive editions for specific channels, such as the cask edition for travel retail," said Rudy Paoli, managing director of global luxury at Diageo, Singapore.
"To put this into further context, within the cognac and whisky category, gifting alone generates approximately $1.6 billion annually, according to Euromonitor 2010 IWSR," he said.
"Gifting therefore allows us to capitalize on these opportunities and offer differentiated price points, helping to premiumize and drive consumers to trade-up."
Johnnie Walker is owned by Diageo.
Collector's items
The collection consists of a new Johnnie Walker Blue Label bottle design and gifts called the Carton, the Chiller, the Mini Cube and the Private Bar.
Items are made with Porsche Design Studio materials such as brushed titanium and matte silver screen print. They also incorporate Johnnie Walker's classic bottle design so that both brands are represented in the pieces.
Also, all items in the collection can be engraved.
The limited-edition bottle features a label by Porsche Design Studio.
Collection bottle 
In addition, the collection's made-to-order Johnnie Walker Blue Label Private Bar is available for $240,000. Fifty of these bars will be produced.
The bar uses motion sensors to trigger an opening sequence that reveals a limited-edition magnum of Johnnie Walker Blue Label designed by Porsche Design Studio.
This bottle is made from hand-blown glass and finished with matte silver. It features a blue leather and metal label.
With the purchase of the bar, recipients will receive a personal tasting experience with Johnnie Walker Blue Label ambassador Jonathan Driver.
Video star
Johnnie Walker chose to market the limited-edition collection through video.
The brand built anticipation with a series of short teaser films that lead up to the Web-based premiere of the video "Engineering a Bold New Whisky Experience."
The video offers consumers insight on the craft, design and personalization possibilities behind the collection. It is available on the Johnnie Walker Blue Label YouTube channel and the Johnnie Walker Facebook page.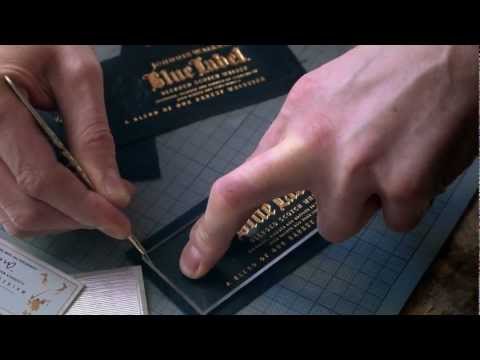 Johnnie Walker also partnered with Instagram influencers to give users an exclusive preview of the collection.
The images posted on Instagram were meant to inspire users to follow, share and join the Johnnie Walker Facebook page and view the film on YouTube.
Additionally, Johnnie Walker created visuals of the collection shot by photographer Olivier Arnaud.
"To be successful in the luxury space today, we believe that our brands need to focus on not only staying relevant with continual innovation to augment our heritage, but also enhancing our credentials with like-minded brand partners, providing a richer collective experience," Mr. Paoli said.
"A collaboration that has been hugely successful for our brand is the partnership with Porsche Design Studio," he said.