A Mercedes-Benz executive at the 2013 Mobile Marketing Association Forum San Francisco said that the car of the future is less about the design and more about connecting users digitally.
During "The Connected Life: From Mobile to automobile – Driving Consumers to Your Brand" session, executives from Mercedes-Benz and Glympse spoke about the company's partnership. Additionally, the session presented ideas on how mobile and social are playing an increased role for marketers.
"If you look at the car of the future, it is not just about design any longer and it is not about just about body engineering," said Johann Jungwirth, president and CEO of Mercedes-Benz research and development, North America, Inc.
"It's really the connectivity and the connected car – customers seamlessly expecting to continue their digital lifestyle in the car as they get into the car," he said.
"We are investing heavily in this user experience to create this space in the car to be almost an analogy to your living room and being able to connected to your surroundings and be context-aware and socially aware."
Drive on mobile
Mercedes-Benz partnered with Glympse in Sept. 2012 in Europe on an initiative to support its new A-Class car line.
Consumers who bought the car could download the Mercedes-Benz Digital DriveStyle application to their mobile devices. The app then recognizes when a user is in a car and turns the vehicle's dashboard into an virtual hub for drivers.
Consumers can then share their location to friends and family via Glympse through either a text message, email or a social media post.
Social and mobile go hand-in-hand and combining the two gave Mercedes-Benz a way to combine its brand and products with a digital lifestyle app.
Once a location is shared, users can follow along with a driver's travel experience for a set period of time.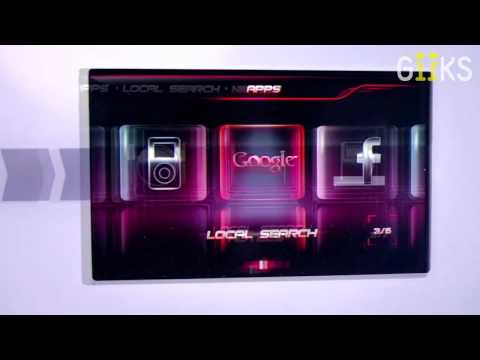 Real-time information
Nowadays, consumers want to share information quickly to friends and family, which gives marketers a unique way to inject themselves into everyday tasks, such as driving.
Marketers can not only help consumers streamline the traveling experience but also keep a brand top-of-mind. For example, the entire connected car experience is branded with the Mercedes-Benz logo.
"If you take a look at how vast the category is with consumers sharing their information, they are still making a phone call or a text," said Bryan Trussel, cofounder/CEO of Glympse, Seattle.
"They are not taking advantage of anything inside a smartphone – it is still the same way that we used our smartphones 15 years ago," he said.